Chicken Tortilla Soup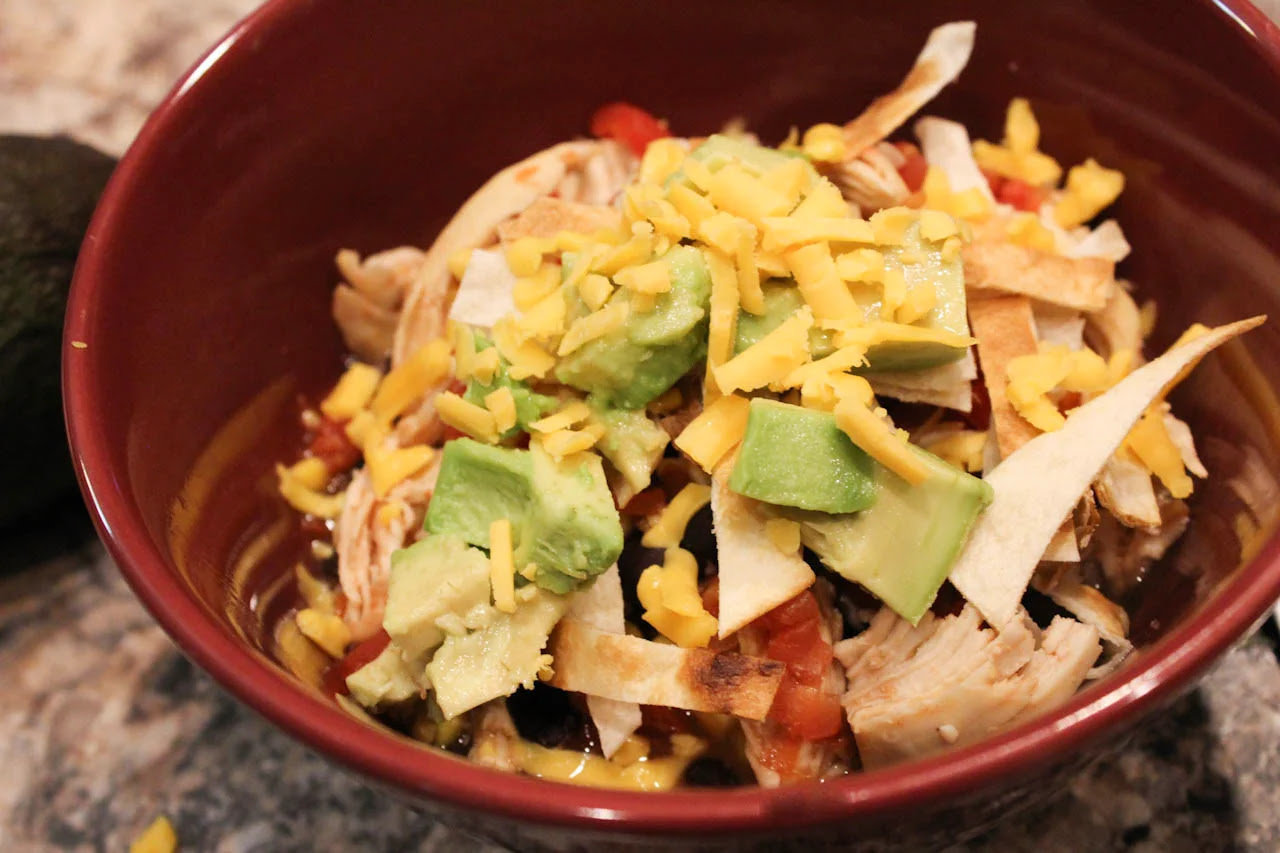 My sister gave me this recipe about 10 years ago. She wrote the recipe on an envelope and I still have the envelope in my recipe box. This is my husband's favorite soup. My pickiest eater picks out the chicken and eats cheese with it, he hates anything with tomatoes. My other kids really enjoy this soup.
I use the tortillas at Costco, you have to cook them because they are dough tortillas. I usually make this soup when I have leftover tortillas from tacos or quesadillas. Then the tortillas are already cooked and the strips don't take long in the oven. I will cut up the tortillas into small strips and bake them. I use a pizza cutter to cut two tortillas at a time. This soup is really easy to make and the avocado makes this soup amazing!
I know boiling chicken sounds so gross, I'm not a huge chicken fan. I usually boil chicken or use a rotisserie if I need chicken in a recipe. Boiling helps keep the chicken from drying out. Dry chicken in a recipe is never good.
Chicken Tortilla Soup
Ingredients
2 chicken breasts, boiled and shredded
15.5 oz canned corn, undrained
28 oz petite diced tomatoes, undrained
15.5 oz can black beans, drained and rinsed
6 cups of water
5 chicken broth cubes
2 cloves of garlic
2 tablespoons dried onion, minced
4 tortillas, cut in 1/2 inch strips
Cheese, grated
Avocado, cubed
Directions
Add corn, tomatoes, black beans, water, broth, garlic, onion, and chicken. Bring to a boil and let simmer for 20 minutes.
While this is cooking cut up the tortilla strips and place them on a cookie sheet. Broil the tortilla strips in the oven. Watch them closely, they can burn quickly. Remove when most of the strips are toasted and light brown.
Serve soup with cheese, avocados, and tortilla strips on top.